Financially Smart Fridays
"I can support my mother in Kathmandu ánd save money for our first child to be born!"
Arjun met his Dutch wife while she was travelling. He was working as an travel guide in Nepal. Arjun had his own company and offered guided travel experiences to Nepal. Due to Corona that business had to stop for now.
They moved to the Netherlands together in June last year and his wife is expecting their first child this year.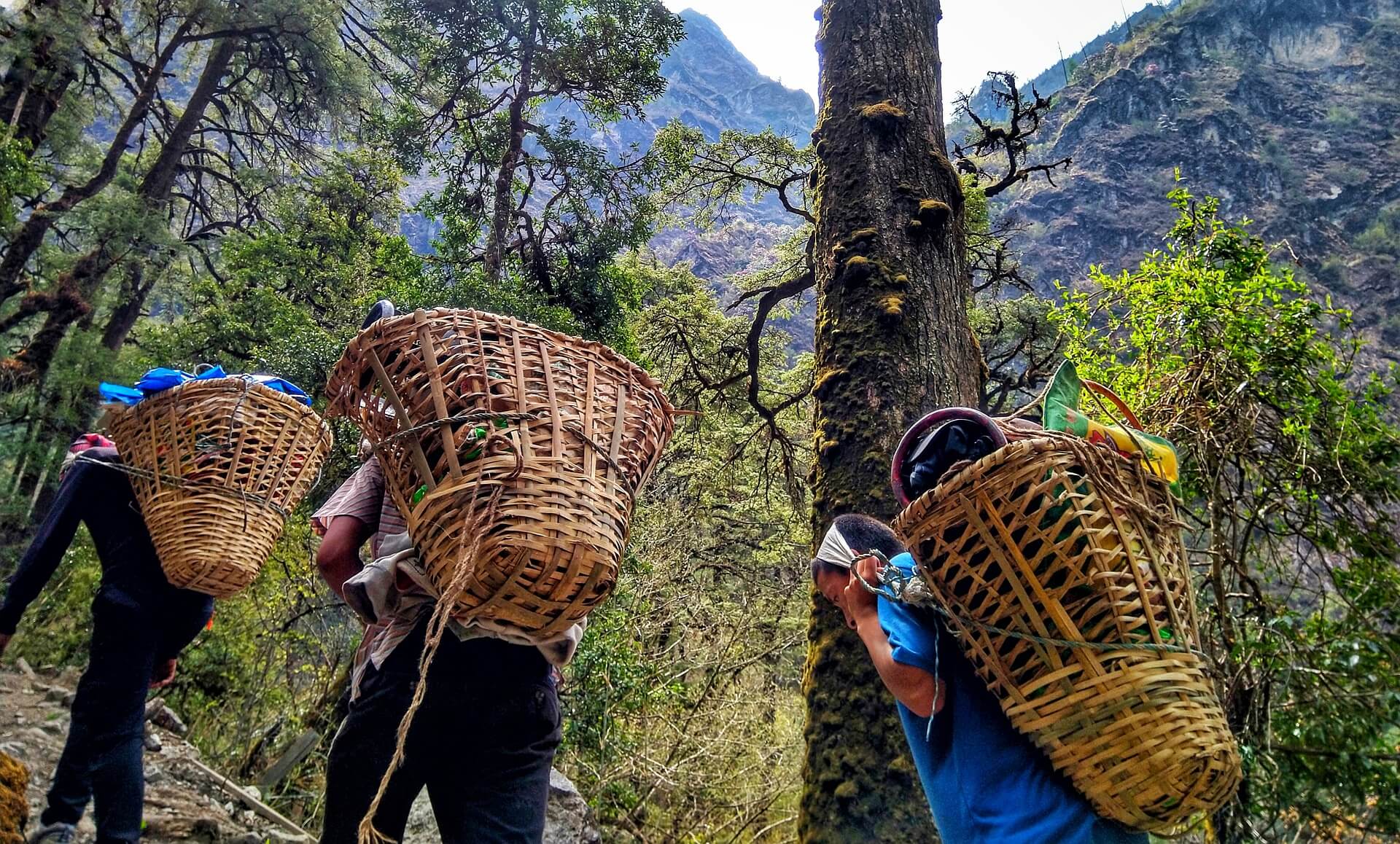 Can you tell me something about your life now?
"Right now, my wife is pregnant! The baby is coming in September. It is something great to look forward to. Things will be changing a lot. I used to be self-employed and I still have the business, but due to Corona I don't get any business right now. But also I don't want to be far away now because normally we guide people in the mountains.
And "we" is me and my team of about 10 people.
Life is very different in Nepal. People work hard and long hours for a few months in the season. People in this industry can work for 3 – 5 months and then they have to live of that money for 7 months or longer."
What do you do to make a living?
"I am working as a logistic handler with a technical company. I am very happy here and we have no plan to be going back to Nepal for the next 4-5 years. We want to raise our child here and maybe buy a house. That would be so nice. Our house is a rental apartment. Right now we live in Nuenen close to my in-laws. Right now we have 1 bedroom. We don't mind, because that is the way that I was raised and also my wife doesn't want our kid to be in another room.
We are going to make a bed that will be close with us. If we look at other cultures, babies are close to their parents.
We have been looking for another house really hard. We saw 10-15 houses but the market is really hard."
So true! I see a lot of almost desperate comments
in the Expat Group on Facebook too...
"The housing market is bad and is going to be worse I think.
Some of the Ukrainian people don't have a choice, of course they want to be in a safe place. If the war is going to grow bigger, I also can go to Nepal and get my whole family too. If necessary, I can organize something. It's human nature people try to be safe."
So I told my wife that we should let it rest for 6 months. It is too much with work and the baby that is on the way. Everything is still new and I need to learn Dutch first. I need to pass the exam so that we can go to Nepal and come back whenever we want to come. Hopefully I can do the exam within 1 year."
How much money do you make together?
"I don't know how money my wife makes. But we have 3 different accounts. We both have our own accounts and the joint account. And we have a saving accounts together. And we also already have a savings account for the children to come.
We save automatically and whatever money is left goes to the children savings account. I am not into investing. I am not going to put my money in something that I don't know and have knowledge about.
I know about Nepal, what to do and how the law is.
I grew up on the other side of the world. Whatever belongs to my family, belongs to me too. I will always look after my wife if she would not make any money at some point. When she would want something, I will do what I can to give her the money. Never as a loan, because I love her and we are family now."
How is the situation in Nepal?
"We used to have a house but it was this destroyed by the earthquake in 2015.
A lot of people lack of fresh water most of the places. They don't have drinking water in the city so they need to buy some. Also, some of the people start walking in the night to go to the public tap to take water because during the day a lot of people are there in the queue. It is truly really different. There's no way to compare at all.
When I work here in the Netherlands, I have to work for 2 days and I can pay for everything my mum needs for a month. Once, when I was in Nepal she got sick and had to go to the hospital.  At that time I had to work for 2 years to pay for all the bills. But it's so different now, only 2 days' work for her to live in Nepal.
What did you learn about money?
"I left my house when I was 18. I remember that once I earned roughly 18 euro's per month. And I had to work long hours and long days, so 12 to 15 hours and after 3-4 months when I would go to visit my parents I was able to buy some clothes. I felt so proud to buy that from my own income. So yes, it is safe to say I am not a big spender. Once, I used to work in the restaurant with 25 people and everybody would do the same; we would start at 8:30 in the morning and the last order we would take would be at 23:00. And then there was cleaning to do so in the season I would only sleep 4-5 hours. But that was for 6 months and then it was over. By then I was sure that I could do better and I quit that job."

"I am 35 now and I really like my life. I like to enjoy life, not planning everything.
The workplace is really good, it is a nice and friendly environment. People are really nice and gentle and they trust us with our work. There is confidence we do our work to our best capabilities.
We work in shifts so that means we have a morning or an afternoon to ourselves that we can spend with family. I am not really into a 9-5 workday so I enjoy the way things are now."
How would you rate yourself for financial ease
in your life?
"I am not very focused on money. It is great to trust that every month my salary is coming. I am not focused on how much money is in my account whether if I have €5000 in my account or like €10,000 in my account… there is no difference in how I feel. What I need to buy I am going to buy. 
I don't want to buy something to look interesting to others.  I don't want to lose my own identity.
I am focussing on what makes me happy. I don't have a driver's license yet and I don't want my wife to drop me off every day. I work with a great team by the way so I follow them in our different shifts. That is why I got an electric bike and it takes me everywhere. This makes me very happy.
And one day, in the future, we hope to go back to Nepal and open a yoga centre and retraite with gast houses in the mountains"
Lastly, what tip would you like to share with others?
"I don't feel like it is my place to say anything. I can only talk about the level I am at, that is my perspective. For me, life is like a book: you always open another page and some parts are harder than other parts. I like to feel inspired. There is always something to go for and it is deeply personal."